Corporate culture is not only the corporate image but also the national image
DNHN - This was emphasized by Deputy Minister of Culture, Sports, and Tourism Trinh Thi Thuy at the Ho Chi Minh City Conference on Implementing the Criteria for Vietnamese Business Culture for 8 provinces in the Southeast region. Ho Chi Minh.
Deputy Minister Trinh Thi Thuy stated at the conference that corporate culture is not only a corporate image, but also a national image with specific behaviors. That is dealing with customers and the community; that is how we communicate with domestic and international partners; and that is how we express our social responsibility, especially when we participate in bilateral and multilateral partnership agreements. In summary form.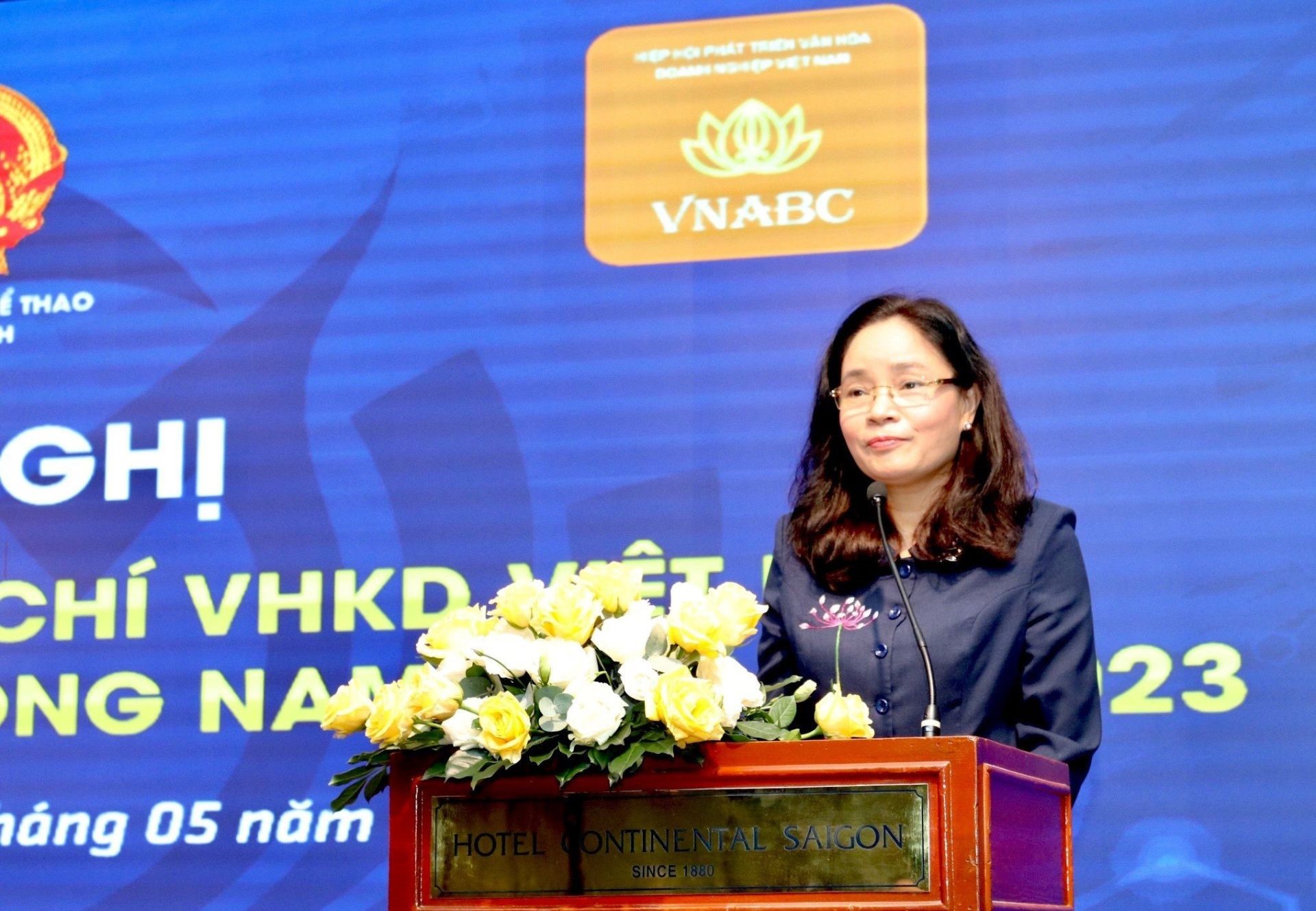 During the conference, Deputy Minister Trinh Thi Thuy stated that corporate culture is not only a corporate image but also a national image with particular behaviors. This is how we interact with customers and the community, how we communicate with domestic and international partners, and how we demonstrate our social responsibility, particularly when we participate in bilateral and multilateral partnership agreements. In a condensed form.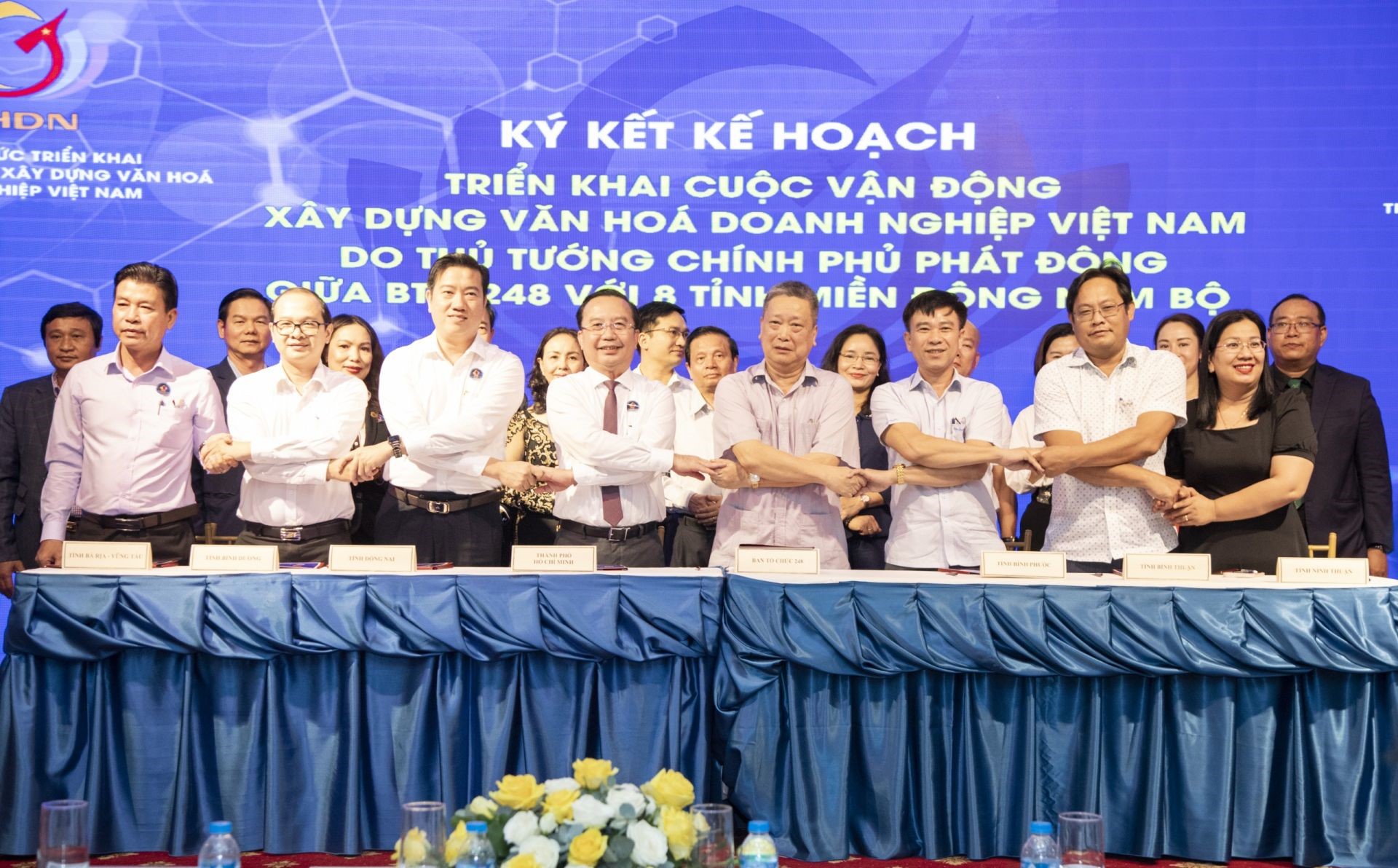 The conference will affirm the position, role, and significance of corporate culture for sustainable economic development, raise the awareness of state management agencies and the business community on building and implementing corporate culture standards, business culture in the new situation, and meeting the requirements of sustainable economic development and international standards.
Trinh Thi Thuy, Deputy Minister of Culture, Sports, and Tourism, praised the Vietnam Corporate Culture Development Association for selecting Ho Chi Minh City. Ho Chi Minh City is where the Criteria for Vietnamese Business Culture is implemented, and the provinces and cities in the Southeast region - a land of talented people with many good traditional cultural values - are one of the four regions with the most important economy in Vietnam.
"As state management of Culture, Sports, and Tourism, the Ministry of Culture, Sports, and Tourism is always active and responsible for coordinating with the Association, relevant ministries, and branches in advising the Party and State to issue guidelines, strategies, mechanisms, and policies to create favorable conditions for the business community to develop sustainably by the provisions of the law. By the spirit of the Resolution of the Thirteenth National Congress of Deputies, we believe that the implementation of the Criteria for Vietnamese Business Culture will create a firm belief in the business community in production and business labor, as well as encourage creativity with good models and new ways of doing things so that Vietnamese enterprises can take more and more steps in the process of building and developing the country.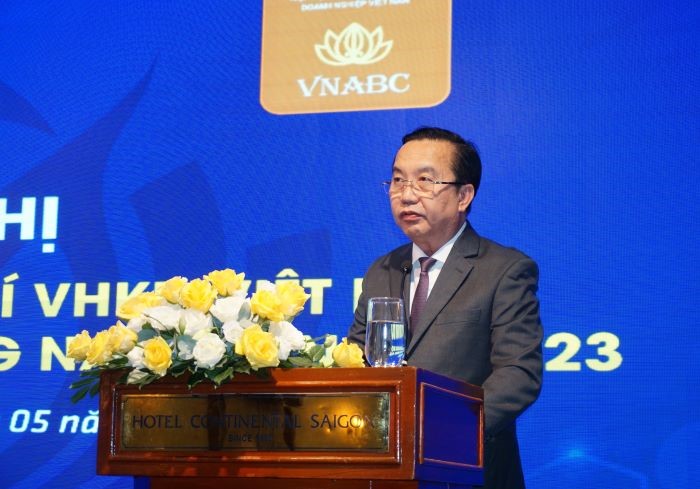 In addition, Mr. Tran The Thuan is the Director of the Department of Culture and Sports for the City. According to Ho Chi Minh, the Prime Minister has designated November 10 as Corporate Culture Day each year to increase business respect for the law. To preserve and promote our nation's cherished traditions, we must establish a set of business culture criteria that regulates behavior toward moral principles. Mr. Thuan also emphasized the "5 Nos" in the set of criteria: No smuggling, no tax evasion; Do not manufacture and trade fake goods and harmful products; Do not owe salary and social insurance; Do not defraud, exploit, or harm other organizations or individuals; Do not break the law. These are the most fundamental requirements of modern business culture that every company must meet. Ho Chi Minh City aims to have more than 85 percent of registered businesses meet the "Cultural Enterprise" standard between 2020 and 2025... It will be associated with evaluation criteria from a cultural perspective during the business honoring activities. …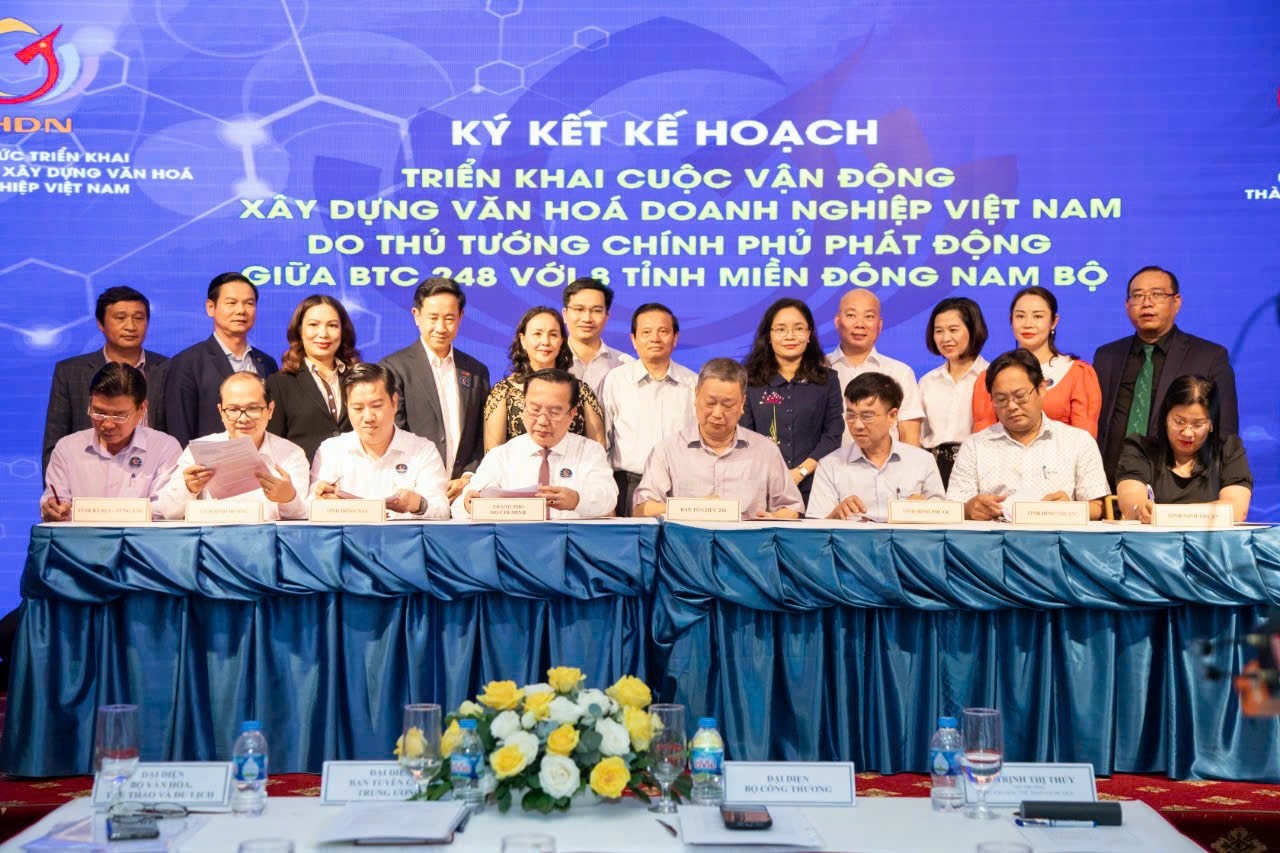 Mr. Le Tan Phuoc - Chairman of the Board of Searefico Joint Stock Company and Vice Chairman of Vietnam Corporate Culture Association - presented the content of the Criteria for Business Culture and Regulations on consideration and work to businesses at the conference. "Enterprise meeting Vietnamese business culture standards" During the event, the Organising Committee 248 and representatives from eight provinces in the Southeast region, including Ho Chi Minh City, signed a cooperation program to deploy a set of criteria for Vietnamese business culture. Ho Chi Minh City, Ba Ria – Vung Tau, Binh Duong, Binh Phuoc, Dong Nai, Tay Ninh, Binh Thuan and Ninh Thuan.
Through two review periods for the years 2021 and 2022, 34 enterprises have met Vietnam's business culture requirements. There are Phu Nhuan Jewellery Joint Stock Company, Vietnam Oil and Gas Group, and Joint Stock Company in this category. Hoa Binh Construction Corporation, Vietnam Joint Stock Commercial Bank for Industry and Trade, Joint Stock Commercial Bank for Foreign Trade of Vietnam, Military Industry and Telecommunications Group, Military Commercial Joint Stock Bank, Garment 10 Corporation, Investment Commercial Bank, and Developing Vietnam are all members of the Hoa Binh Group of Companies.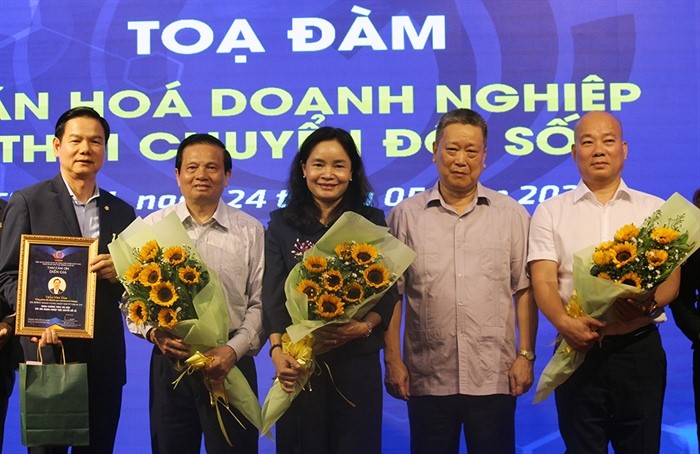 Speaking about corporate culture in the annual National Brand Programme organized by the Ministry of Industry and Trade, Mr. Vu Ba Phu - Director of the Trade Promotion Department, Ministry of Industry and Trade, stated: "When participating in BTC 248, we see a huge interference between the criteria for product recognition of national brands, the criteria for business evaluation, issues related to social responsibility, and the "5 No's" regulations... are mandatory criteria. When deciding whether or not to purchase a national brand product, consumers are compelled to consider social responsibility. Through the National Brand Programme, the government aims to promote the image and people of Vietnam as a powerful nation with production, high-quality products, and international renown via internationally renowned brands. national identity. I believe that the products produced by enterprises recognized for their business culture and meeting the main set of criteria are the raw materials that can be exported to promote the image of the country and its people. In addition, the global supply chain has recently recovered from the Covid-19 pandemic but changed and regionalized. Several nations, such as the United States, Europe, and Northern Europe, are gaining investment from China. Multiple technical, cultural, and environmental obstacles have reappeared and are intensifying daily. The European Union is the first economy to increase non-commercial criteria and standards, including green transition, green trade, etc. They stipulate that goods exported to the EU cannot be associated with destruction. Forest, child labor abuse, and prison labor abuse must not pollute the environment... even next year, products exported to the EU will be subject to a carbon tax. At the level of business development, the business culture standards, environmental standards, and related laws... are the foundation upon which we build the passport to export our goods to the EU or the market. big economy".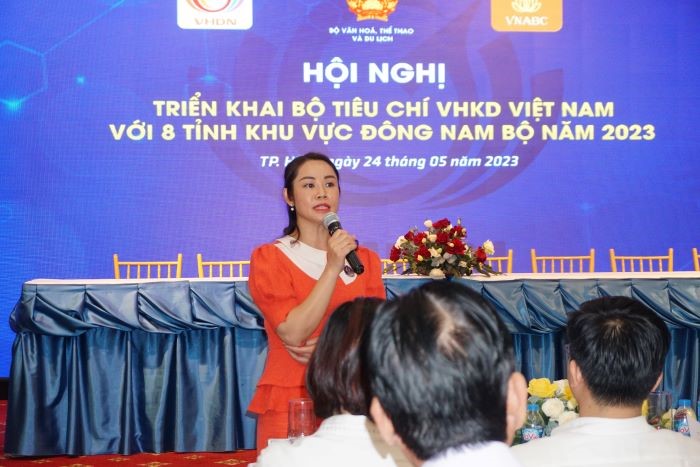 Ms. Vu Thi Thu Huong, Deputy Head of the Communication and Corporate Culture Department of Vietnam Oil and Gas Group Nam, believes that, if these criteria are met, enterprises will achieve certain values in their development, particularly in terms of the authenticity of the Criteria, based on the experiences and values gained from their participation in the "Enterprise meeting the standards of Vietnamese business culture" program.
"In 2021, we exerted great effort to meet all of the Criteria. As one of the 10 recognized businesses, we have recognized the implementation of corporate culture as a mirror to use in the future to complement our values as well as our own. contribute to the development of a viable business community. Therefore, in 2022, the Group will require 32 of its business units to comply with Vietnamese business culture standards and will use this as one of its business evaluation criteria for these 32 business units. Our group. This can be viewed as a success and source of pride for the Vietnam National Oil and Gas Group, as well as an opportunity to continue its development..." - Ms. Vu Thi Thu Huong added.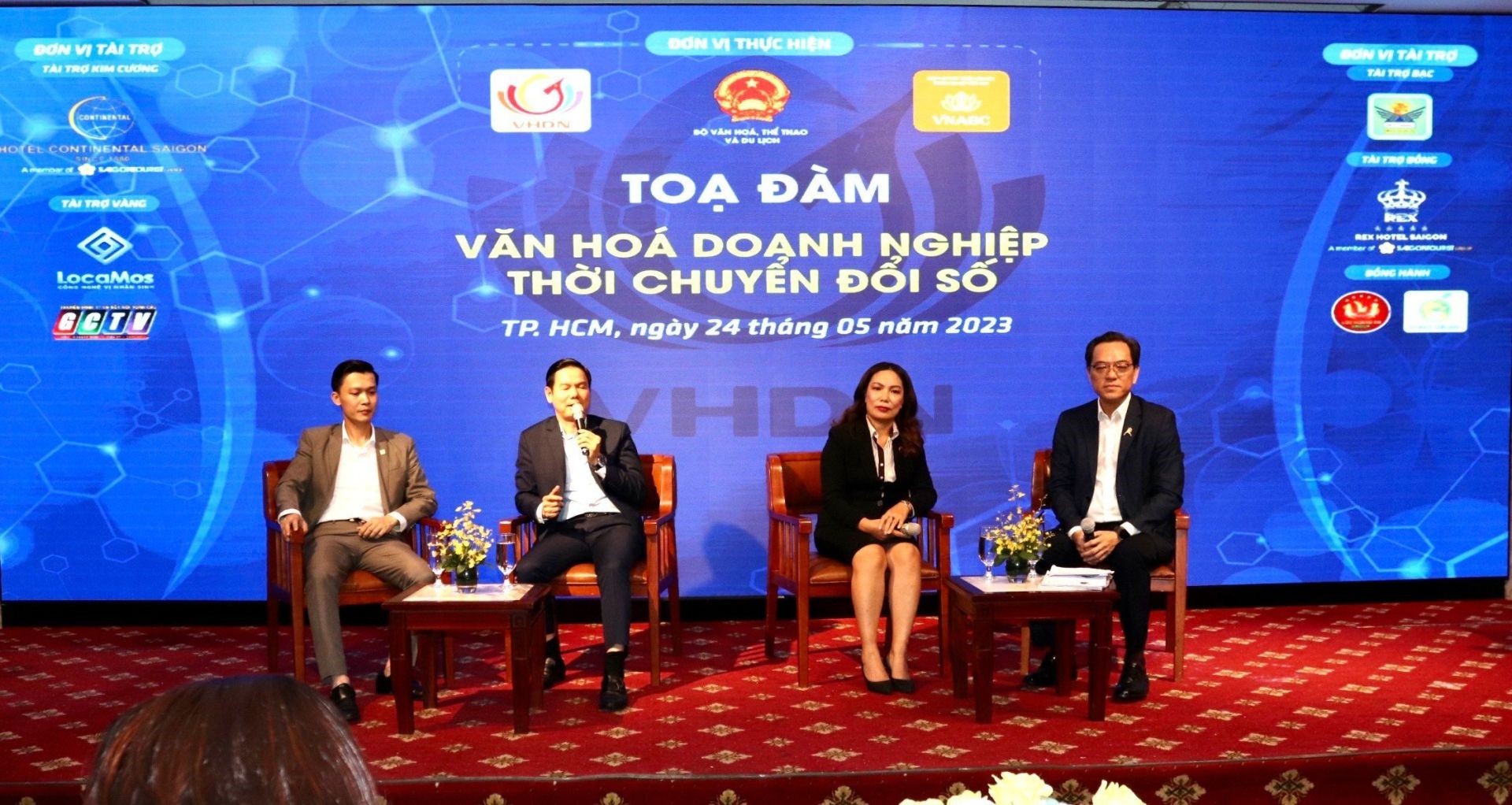 In addition to the introduction of the Criteria, the Conference hosted a seminar on "Corporate Culture in the Digital Transformation Era" with the participation of speakers with extensive experience in constructing and developing a digital culture. Under the leadership of Mr. Tran Van Phat, the CEO of ROBOT Company, businesses in Vietnam are undergoing a digital transformation. Here, MSc. Vu Ngoc Quyet, Chairman of Locamos Technology Joint Stock Company, discussed the trends for Martech 2023. He stated that technology is a tool that businesses must have a business philosophy to implement. Businesses with a strong business model and a culture of innovation will create new values with greater differentiation to serve the market, which will then spread to their customers. Ms. Dinh Thi Thuy, General Director of Misa Joint Stock Company, then discussed Misa's corporate culture and her experience in implementing digital transformation to build and develop corporate culture.
"We maximize digital value in our operations. The world is changing very quickly, so we must always keep up or be left behind. Everything can be changed in a split second, saving a great deal of time and allowing us to accomplish great things. effective immediately..." - These are Mr. Tran Van Tam's shares in the Continental Saigon Hotel, one of the hotels in Saigon with the longest history in terms of management and administration. for your enterprise during the Industrial Revolution. 4.0.
Uyen Nhi
Related news