Meey Map launches a completely new version - A breakthrough in online real estate planning search
DNHN - The value of a real estate is often many times greater than that of other common goods, so the level of profitability and risk also increases in a proportional way. Therefore, it is very necessary to quickly grasp market information, general price level, planning issues ... to make judgments about the growth situation of real estate.
The optimal solution in looking up real estate planning online
Meey Map is a nationwide online mapping platform for planning information researched and developed by Meey Land Group Joint Stock Company. The product supports users to find information about the location and legal information of real estate being bought, sold, transferred or rented. Meey Map is displayed as an interface: Planning map, traffic map and satellite map, and provides users with smart and useful features.
Meey Map is one of the strategic products in the Ecosystem of 26 technology products of Meey Land, Meey Map users will be provided with a comprehensive set of solutions for the real estate sector. Not only looking up real estate planning, users can search for real estate listings, advertise listings, look up legal... This is a highlight that no other product on the market has.
Currently, Meey Map has updated construction planning data of 39 provinces, of which 21 provinces have more than 5 planning projects and aim to cover 63 provinces and cities. Thanks to that, users can look up planning information anytime, anywhere in the fastest, most accurate, detailed way to each land plot, just need an internet connection.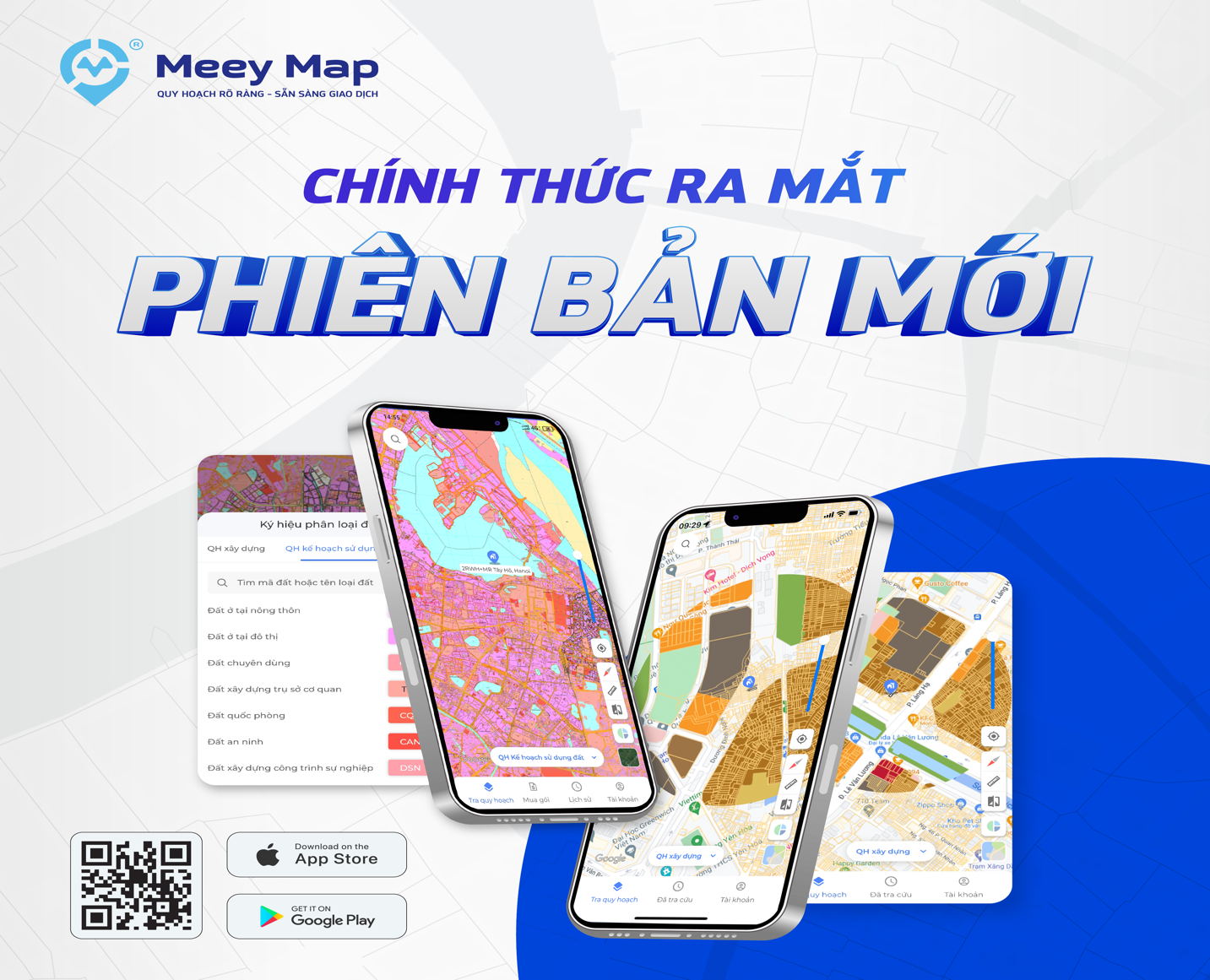 Meey Map app and website - Attractive utilities for users
Grasping the trend and needs of the market, on September 9, 2022 Meey Map officially upgraded the website to a new version and launched the app version on all iOS and Android platforms.
Accordingly, Meey Map upgraded the planning map with two types of maps, including: Land use planning and construction planning, contributing to increasing the user experience and facilitating the search and search process. Find real estate information. facilitate the process of searching and searching for real estate information.
Meey Map users will have detailed data related to the land plot in particular and the area in general, such as: Land type, area, legal status, population size, surrounding utilities... Meey Map applies 4.0 technology to help users: Search for real estate by address, coordinates or red book; Measure distance and area; Direct download of planning information; Search for properties with in-depth filters; Compare map and satellite base layers using a dedicated toolbar; Table of symbols for detailed land use planning... In the new version, users can fully actively manage their accounts such as personal records, number of lookups, account balances, transaction management, business account…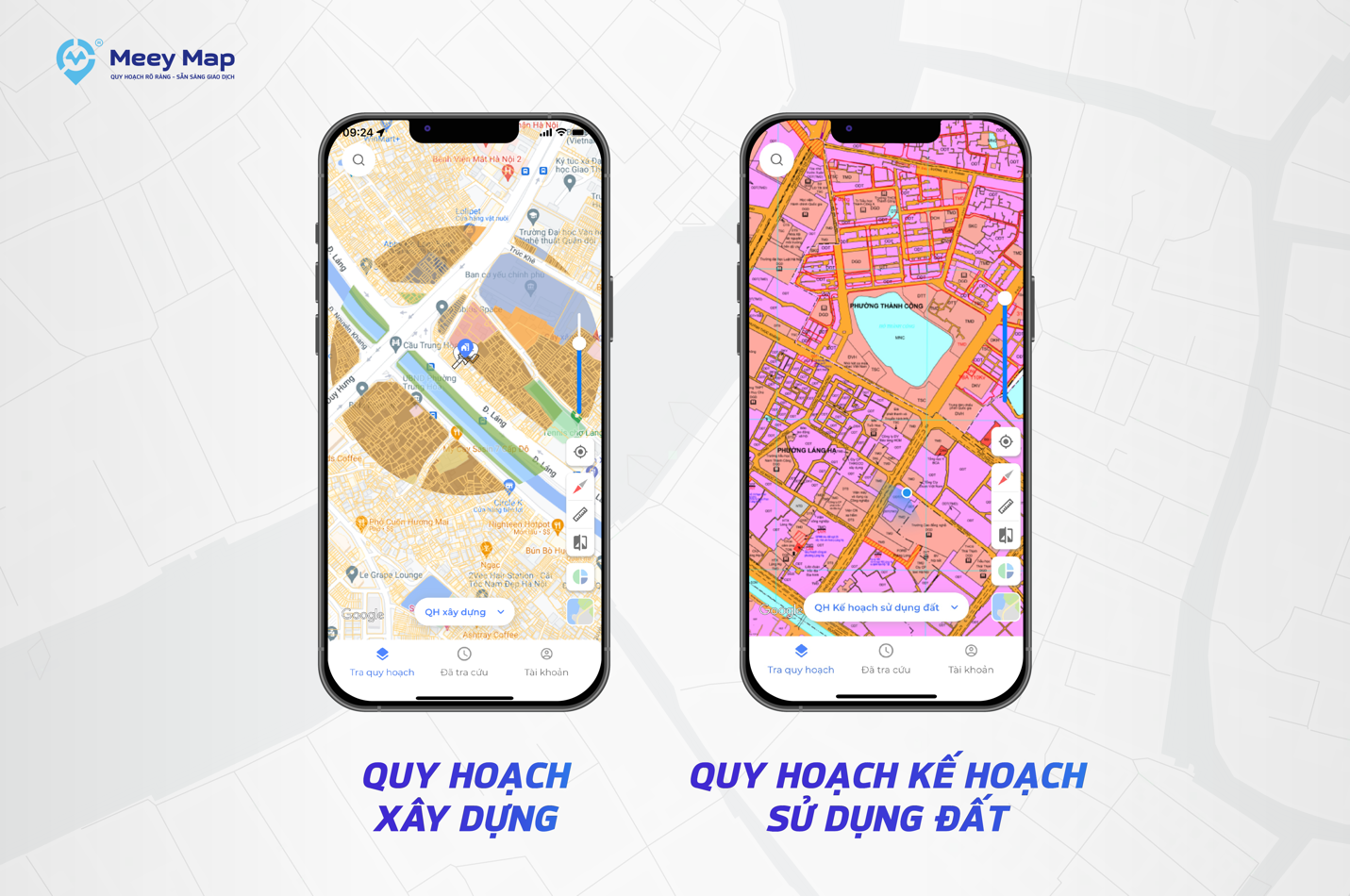 Meey Map applies GIS (Geographic Information Systems) technology solutions in data management to digitize, associate data with coordinates, and display information on the map visually, improve concentration.
The upgraded version of Meey Map with many outstanding advantages meets the needs of most customers when constantly updating information and data from competent state agencies, ensuring accuracy and reliability; Diverse data sources. The new version focuses on the user's experience when searching for real estate locations easily, looking up accurate and smooth planning, and selling packages customized to the needs of each customer. Meey Map is a tool to help users save time, effort and money…
Looking up planning is considered an important factor that investors, owners, real estate brokers .... mandatory implementation in order to make information transparent, minimize legal disputes, and at the same time, support buying/selling and investment decisions.
With the goal of "Clear planning, ready for transactions", Meey Map was born to contribute to solving the problems of the real estate market, providing an optimal search experience when providing all relevant information related to real estate through a map platform, contributing to information transparency, minimizing disputes, supporting buying/selling decisions, real estate investment.
Along with controlling credit flowing into real estate, the Government has also issued legal documents to make the real estate market transparent. Among them, Resolution 18-NQ/TW of the 5th Central Committee, term XIII, has also set out a number of tasks and solutions to be implemented in the near future such as: Land speculation will incur high taxes; restricting land allocation, land lease without auction; Mandatory transactions through exchanges, payment via banks to ensure publicity and transparency… In the future, Meey Land always strives to improve, develop and add new features of Meey Map application through the process of collaborating with local departments to share and digitize information to ensure focus, objectivity and transparency.
With the desire to meet all the needs of looking up real estate planning information, helping users have a Fast - Convenient - Accurate experience, Meey Map is constantly improving and perfecting, applying the latest technologies. on both Website and App versions, providing a smooth, easy-to-use experience even for those who have never looked up the plan.
In particular, Meey Map offers a 100% free program to view information on land use planning in 63 provinces and cities and give away 1 time to look up construction planning.
Meey Land Group Joint Stock Company
Address: 5th floor, building 97 – 99 Lang Ha, Lang Ha Ward, Dong Da District, City. Hanoi
Download now at: https://app.meeymap.com/MKT
Email: contact@meeyland.com
Tel: 0249 999 2999
PV
Related news