Expecting to join CPTPP, businesses from the UK are especially interested in Vietnam
DNHN - The UKVFTA Agreement is primarily seen by British businesses as a tool for promoting trade by utilizing preferential tax rates. Vietnam is simultaneously designated as a nation of special interest at a time when the UK is anticipated to ratify the CPTPP Agreement.
The Vietnam-UK business connection seminar was attended on November 11 by a delegation from the Ministry of Agriculture and Rural Development (MARD) led by Deputy Minister Phung Duc Tien. The delegation met associations and businesses from the two nations.
Deputy Minister Tien introduced the session by summarizing the main points of his discussions with Ms Tamara Finkelstein, UK's Permanent Deputy Minister of Environment, Food, and Rural Affairs. In addition to signing a Memorandum of Understanding on cooperation between the two ministries, he claimed that the two parties had also agreed on the priorities for future agricultural cooperation.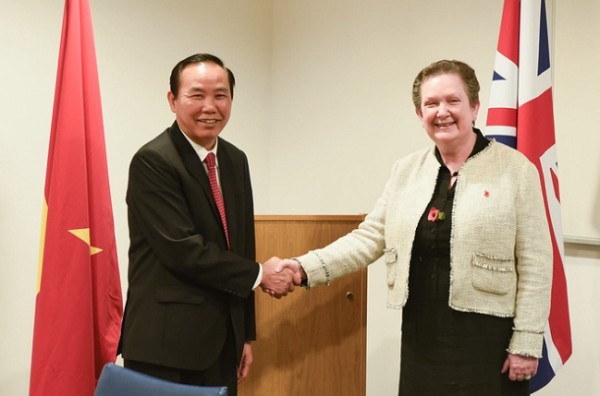 The Deputy Minister declared in front of representatives from both business sectors that the agricultural sector in Vietnam had grown at a rate of 2.9%, which was higher than the overall economy's growth rate of 2.58%. A record 48.7 billion USD in exports of agricultural, forestry, and fishery products were made in 2021, an increase of 15% from 2020.
Leaders of the Ministry of Agriculture and Rural Development assessed that there have been significant advancements in agricultural cooperation with the UK, laying the groundwork for future development.
In terms of trade and investment, particularly through the UKVFTA Agreement, the UK and Northern Ireland are strategic and significant partners for Vietnamese agriculture, according to Mr Tien.
Vietnam and the United Kingdom and Northern Ireland will conduct more than $6.6 billion in bilateral trade in 2021, an increase of more than 17%. In particular, trade in agriculture, forestry, and fisheries has increased steadily between the two nations at a rate of 6% annually, expected to reach almost $1 billion in 2021.
Deputy Minister Phung Duc Tien stated that the two nations' agricultural sectors can effectively complement one another in the event of cooperation. In addition to rice, vegetables, coffee, tea, cashews, pepper, aquaculture, and the processing of wood and furniture, Vietnam excels in tropical agricultural products. The UK agriculture sector excels in the production of temperate agricultural products, the development of new high-tech machinery, equipment, and inputs for agricultural production, the processing of agricultural products, and the research and development of vaccines.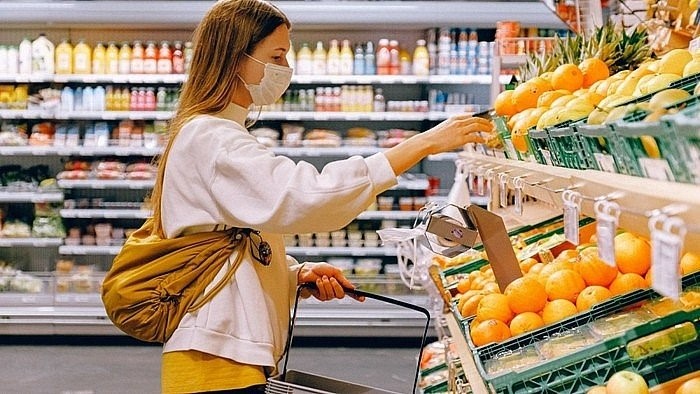 There is still a lot of room to expand the two nations' agricultural trade. Because Vietnam's agricultural exports to the UK only totalled about 800 million USD, or more than 1% of the UK's total food imports (which total about 60 billion USD). Similarly, less than 1% of the value of Vietnam's total imports of agricultural, forestry, and fishery products comes from the UK (over 30 billion USD).
Regarding investment, FDI from the UK into agriculture in Vietnam is still modest (about 40 projects, total capital of 240 million USD), but it has been growing at a rate of over 10%/year over the past few years. Particularly at important international forums like COP26 and the United Nations Summit on Food and Food Systems, Vietnam and the UK both share and have strong commitments to green, sustainable economic development and emission reduction.
"I'm hoping that at this seminar, the two companies will speak with a single voice, connect, and link with one another, share information, and create a detailed, long-term plan for business cooperation while also developing trust. believe in creating an agricultural sector that is more sustainable, profitable, and green ", said the Deputy Minister.
The Ministry of Agriculture and Rural Development delegation was joined at the meeting by a number of Vietnamese companies to market robust agricultural products like coffee, fruit, etc. in the UK. In particular, committed to production using procedures that adhere to international standards, ensuring food safety and hygienic conditions.
On the UK side, representatives of organizations and companies that produce agricultural products raised concerns with Vietnam regarding things like chemical residues and phytosanitary measures for exported goods. They also pledged to work closely together in the future. to cooperate in addressing and resolving issues.
Vietnam's decision to shift its agricultural production thinking toward sustainability was also welcomed by the UK partner. You also mentioned how increasingly more Vietnamese businesses are very concerned about how development will affect the environment, society, and workers' quality of life.
The UKVFTA Agreement is primarily seen by British businesses as a tool for promoting trade by utilizing preferential tax rates. When the UK anticipated joining the CPTPP Agreement, they also designated Vietnam as a country of special interest.
To meet the rising demands of the global market, the UK side also advised the Vietnamese partner to further improve the technology content, which is a strength of British businesses.
Deputy Minister Phung Duc Tien pledged to use as many resources as possible to support the two nations' economies after hearing everyone's opinions. Additionally, he stated his desire to collaborate with businesses and attract them to invest in high technology for food and agricultural production, processing, preservation, and distribution.
"In trade and investment activities, we anticipate that UK companies will establish joint venture partners that are well-connected and dependable with Vietnamese companies and farmers. The result of the two sides' collaboration is not just economic effectiveness, but also the value of friendship, the sharing of technology, and the blending of the cultures of the two nations "Deputy Minister said.
Hoai Anh
Related news