Vietnam is the Southeast Asia leader in business digitalization
DNHN - According to Robocash Financial Group research, Vietnam has the highest socioeconomic development with 26.81 points and leads the table in business digitalization with 5.73 points, closely followed by the Philippines with 5.3 points.
Robocash Financial Group analysts undertook a study of nations in South Asia and Southeast Asia to establish the amount of corporate digitalisation's influence on the region's "economic health." According to the findings, Vietnam and the Philippines are the most promising nations for digitizing commercial activity, followed by Indonesia and India.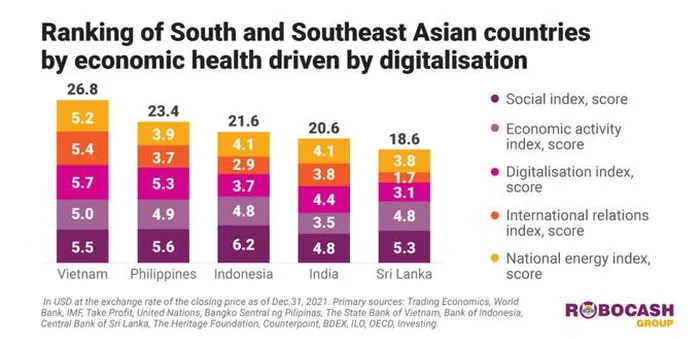 According to this survey, Vietnam has the highest socioeconomic development (26.81 points) and leads the table in business digitalization (5.73), closely followed by the Philippines (5.3 points).
This study demonstrated Vietnam's enormous economic potential, a country with an incredible GDP growth rate of roughly 5.2% per year over the last ten years (US - 3.1%, China - 4.9%). The national economy is extremely resilient to global volatility. Vietnam's GDP growth rate will be 3.5% during the worldwide Covid-19 outbreak in 2020.
According to Statista digitalization statistics, Vietnamese consumers spend more than 6 hours per day on online activities, primarily via mobile connections. Vietnamese people are also highly familiar with buying and selling activities, as well as using a range of internet services from other Asia-Pacific nations.
Notably, the "smart city" is one of Vietnam's key growth paths for further digitizing economic activity here. As a result, the Vietnamese government has authorized a local urban development project by increasing the government's budget for digital technology.
The plan is implemented in three phases: 2016 - 2020 for drafting legal policies and intellectual infrastructure for pilot application; 2020 - 2025 for perfecting legal regulations and applying information technology to develop a "smart city"; and 2025 - 2030 for completing the first phase of the pilot, forming a nationwide "smart city" network.
According to analysts, with the economic potential generated by corporate digitalization operations, Vietnam has emerged as one of the key countries of the fourth industrial revolution, attracting attention. a large number of foreign investors
Specifically, sharing on the sidelines of the Savills Cross-Border Tenant Advisory APAC 2022 in Ho Chi Minh City on luring foreign investment flows. Mr Dominic Harding, Vice President and Head of Cross-border Tenants at Savills USA, stated in Ho Chi Minh City at the beginning of August: "American enterprises have gone to Vietnam and done market analyses." They consider this as an appealing environment to do business, with a skilled workforce, efficient delivery, and strong market demand. This is a market with high growth for these companies, making it a good place to invest in in the long run.
PV
Related news