The December Spring Flower Festival will feature a variety of exciting events
DNHN - The Organizing Committee will build a stage that is both historic and modern to impress and entice tourists to participate in the festival's activities, as well as organize a fair time for visitors to experience the events.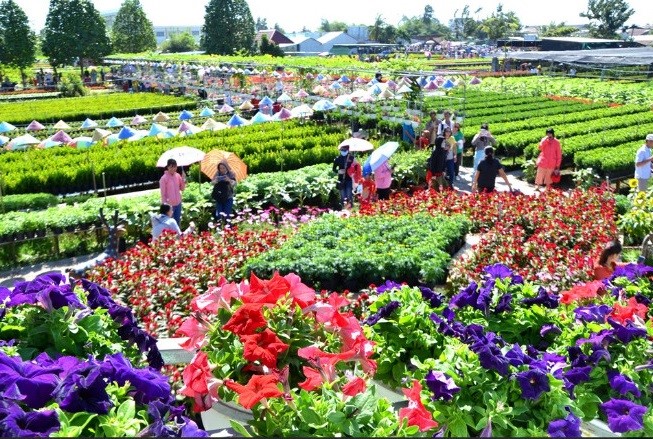 The Quy Mao Spring Flower Festival 2023 and the 10th anniversary of the creation of Sa Dec city will be held at President Ho Chi Minh Monument Square, Sa Dec Park, on January 6, 2023, at 19:00. The event will be held from January 6 to 11, 2023.
The Spring Flower Festival 2023 will feature a variety of exciting events, including a Gratitude and honour ceremony for ornamental flower cultivation, a Gratitude ceremony honouring the Sa Dec flour-producing village, and many more. The street festival, beautiful rose contest, spring Sa Dec art photo contest, songwriting contest about Sa Dec city, festival of street dance groups, and performances of a super-large bowl of chopped flour cake During the event, there are additional commercial fairs and services to help travellers visit and purchase.
The consulting unit, Song Sen International Tourism Joint Stock Company, stated that to make an impression and attract tourists to participate in the festival's activities, it will coordinate to organize the opening and modern and traditional stage design, lighting, performance sound selection; arrange a reasonable time for activities, convenient for visitors to experience.
Vo Thi Binh, Vice Chairman of the Sa Dec City People's Committee, urged that agencies and departments work closely together to organize this activity, particularly to ensure security, order, food safety, and hygiene for tourists visiting the festival.
P.L
Related news