Mr Nguyen Minh Cuong, ADB's Chief Economist in Vietnam, believes that Vietnam will continue to recover in the coming months
DNHN - Mr Nguyen Minh Cuong stated in the most recent analysis of Vietnam's economic development that the country's strong fiscal position and low public debt have significantly supported Vietnam's strong economic recovery, despite global inflation and rising interest rates.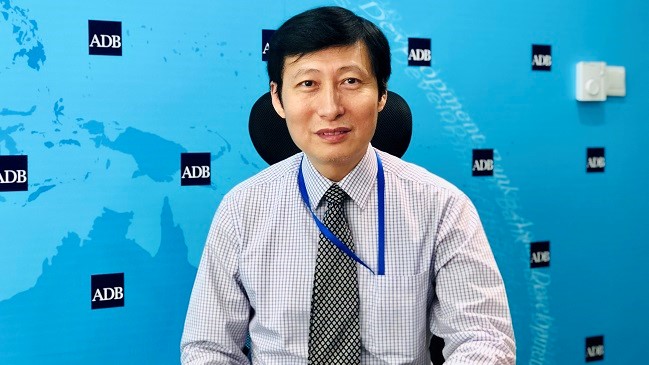 Food shortages and the recovery of the global food supply chain, according to Mr Nguyen Minh Cuong, will enhance agricultural production this year.
However, the agricultural growth prediction has been reduced from 3.5% to 3%, since high input costs may limit the industry's expansion.
The manufacturing industry's growth rate is slowed by a drop in global demand. The Purchasing Managers' Index decreased to 52.7 in August from 54.0 in June. As a result, the prediction for industrial growth has been reduced from 9.5% to 8.5%, although the prognosis remains positive. The industrial sector continues to grow as a result of significant FDI inflows.
The restoration of regular internal travel and the easing of travel limitations imposed by the Covid-19 pandemic for international tourists would aid tourism rebound in the last months of the year. This supports service sector growth, which has been upgraded from 5.5% to 6.6% by 2022. However, this prediction is still lower than the 7.3% rise in services expected in 2019 - before the epidemic.
Exports are slowing because demand in the global market is lower. The depreciation of the dong makes imports more expensive than exports, resulting in a trade imbalance in 2022.
High global inflation, albeit reducing, and tightening financial conditions will continue to decrease remittances.
Due to these factors, the ADB predicts a current account deficit of 1.5% of GDP this year, and a deficit of 1.7% of GDP in 2023, as global growth expectations weaken.
According to Mr Cuong, the total investment is likely to rise this year. Although global geopolitical uncertainties and tighter financial circumstances will continue to constrain FDI inflows in 2022, FDI disbursement will rise substantially as international investors continue to trust and do business in Vietnam becomes more convenient.
The government's aggressive effort to disperse public investment, particularly the execution of the Economic Development and Recovery Program, will counteract the reduction in exports caused by sluggish global demand.
By keeping policy interest rates steady, the SBV maintains a flexible and cautious monetary policy. The State Bank will also increase the execution of the interest rate support program to lend to the economy at a cheap cost.
Mr Cuong further mentioned that expansionary monetary policy, such as interest rate support, debt restructuring, and debt extension by rules but without changing debt groups, might cause the categorization of challenging loans to be delayed. Claims are expected to account for 5% of total outstanding loans in 2022.
Attempts to maintain the currency rate steady to encourage imports and exports, he noted, might put pressure on foreign exchange reserves.
According to the ADB, the budget deficit would rise to 4% of GDP this year as a result of the ongoing implementation of price controls, tax cuts, targeted budget support, and social security spending, health and immunization. Covid-19.
However, because the state debt is under control, Vietnam still has budgetary headroom. The public debt is expected to be 43.1% of GDP in 2021, less than the required threshold of 60%. Meanwhile, Vietnam's external debt is expected to be 38.4% of GDP, well under the 45.0% statutory maximum. "In the face of global inflation and rising interest rates, Vietnam's successful economic recovery has been considerably helped by its excellent fiscal position and low public debt," Mr Cuong added.
Vietnam's careful monetary policy and successful execution of price control measures for gasoline, power, food, healthcare, and education will help to keep inflation at 3.8% in 2022 and 4.0% in 2023.
Rising investment, controlled inflation, and expansionary monetary and fiscal circumstances are likely to stimulate domestic demand in 2022, therefore fuelling the continued economic recovery.
Consumption increases throughout the remainder of 2022, and the possibility of higher pricing for some government-managed items may exacerbate inflationary pressures.
However, Mr Cuong cautioned that, while the business climate improved in the first eight months of the year, economic momentum began to slow in August, and the number of newly registered enterprises declined somewhat, albeit the total number of new businesses continues to rise. This drop reflects difficulties in the business recovery, such as labour shortages and lower new orders.
Lam Nghi
Related news