Cultural cooperation contributes significantly to the development of diplomatic ties between Vietnam and Italy
DNHN - In an interview with Business and Integration Magazine, Mr Michele D'Ercole, Chairman of the Vietnam-Italy Chamber of Commerce and CEO of Golden Heritage, said the same thing. According to him, the most intriguing aspect of Vietnam-Italy ties is that the two countries have a rich history and culture, which serves as the foundation for the two nations to link their commercial demands.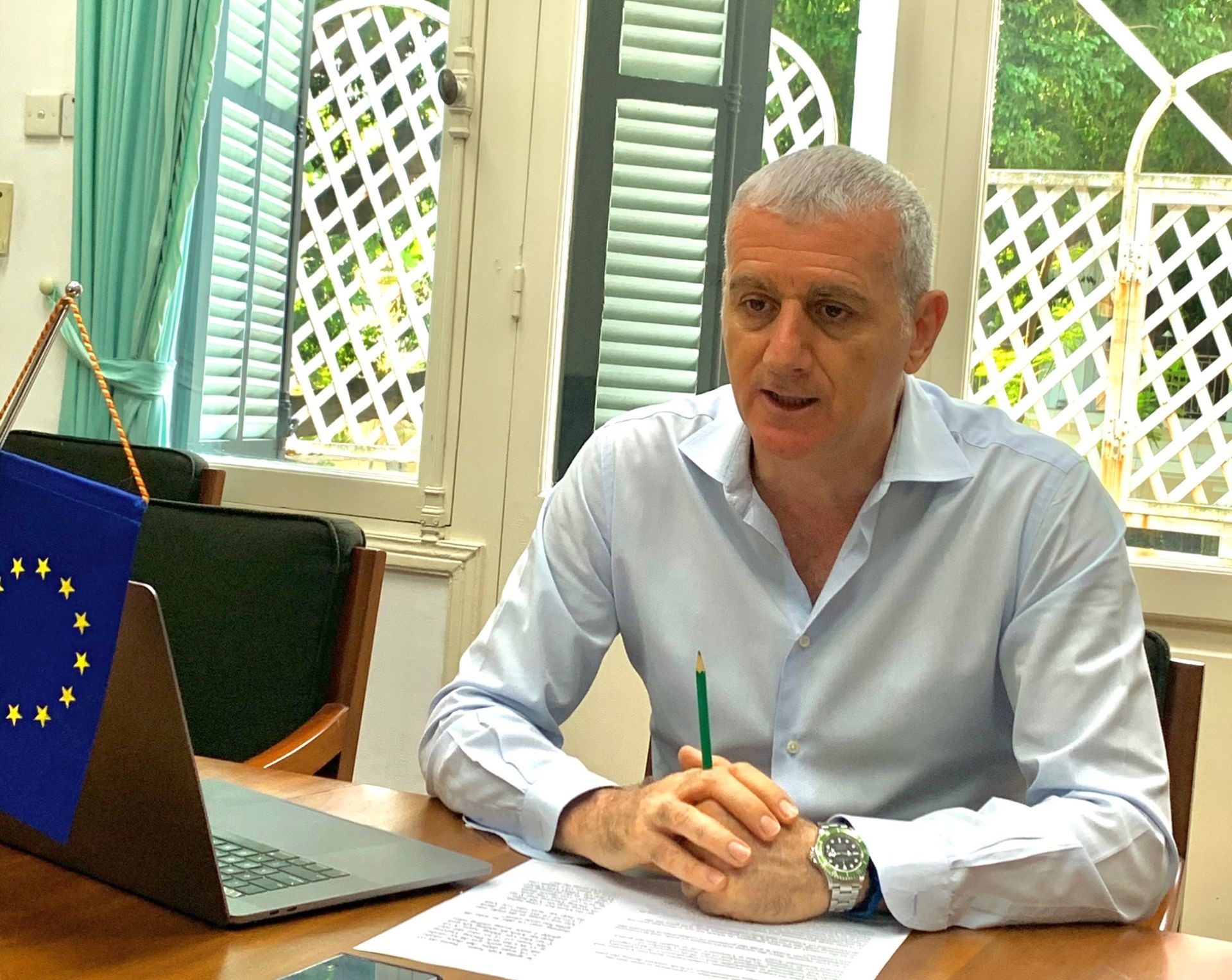 Reporter: As President of the Vietnam-Italy Chamber of Commerce (ICHAM) and CEO of Golden Heritage, can you tell us about the unique things you experience while executing your roles?
Mr Michele D'Ercole: The two professions that I am taking on have one thing in common: they allow me to pursue my love for sharing and understanding the cultures of Italy and Vietnam. My objective at Golden Heritage is focused on cultural interaction, with an emphasis on heritage goods business and investment. These responsibilities are made feasible by the ideal marriage of the jobs of the President of ICHAM and CEO of Golden Heritage. Our company goal is to promote Italian culture in Vietnam and Vietnamese culture in Italy.
The most intriguing aspect is that Vietnam and Italy both have rich histories and cultures; this platform allows me to function as a bridge between the two nations, where addressing the commercial needs of heritage items and delivering lifestyle solutions is a top focus.
We provide services to guarantee that our clients may effectively engage in cultural and historical commerce as an organization that encourages cultural links between two countries.
Reporter: Vietnam-Italy collaboration has achieved significant and extensive growth steps over the last 50 years, accomplishing several notable successes in the economic area. Many notable agreements have been reached between the two nations. What role does Vietnam play in Italy's Southeast Asian foreign policy, in your opinion? How would you rate the economic cooperation relationship, as well as the outcomes achieved by the two nations' business communities in recent years?
Mr Michele D'Ercole: Political and economic links between Vietnam and Italy have grown significantly in recent years. We can see that corporate cooperation in the two countries has begun to grow strongly, particularly in the last ten years since we signed a strategic partnership between the two governments of Italy and Vietnam on the occasion of the 40th anniversary of the establishment of diplomatic relations between the two countries (2013). Many big Italian enterprises set themselves here between 2012 and 2011 (Piago, Carvico, Datalogic, and others). These firms invested in Vietnam more than ten years ago, demonstrating the country's importance to Italy. Since Italy established diplomatic relations with Vietnam in 1973, the two nations have maintained strong ties.
As President of ICHAM, I consider Vietnam's contribution to the Italian economy to be critical. Vietnam is also a key strategic partner in Southeast Asia. The two nations' relationship has been steady since before the Covid-19 epidemic. Although there are more established economies in linking commerce, such as Singapore, Indonesia, or Malaysia, Vietnam still has a solid footing in the eyes of investors and corporations.
Italy frequently favours Vietnam in its economic development strategy for other nations. One of the grounds for doing so is the signing of the Vietnam-EU Free Trade Agreement (EVFTA). EVFTA is an agreement between Vietnam and 27 European Union (EU) nations, including Italy.
The agreement has been in place for two years and is critical to fostering commerce between the two countries. The Agreement further strengthens Vietnam's position because not all Southeast Asian nations have signed the Agreement, which has prompted significant investment from Italy in Vietnam.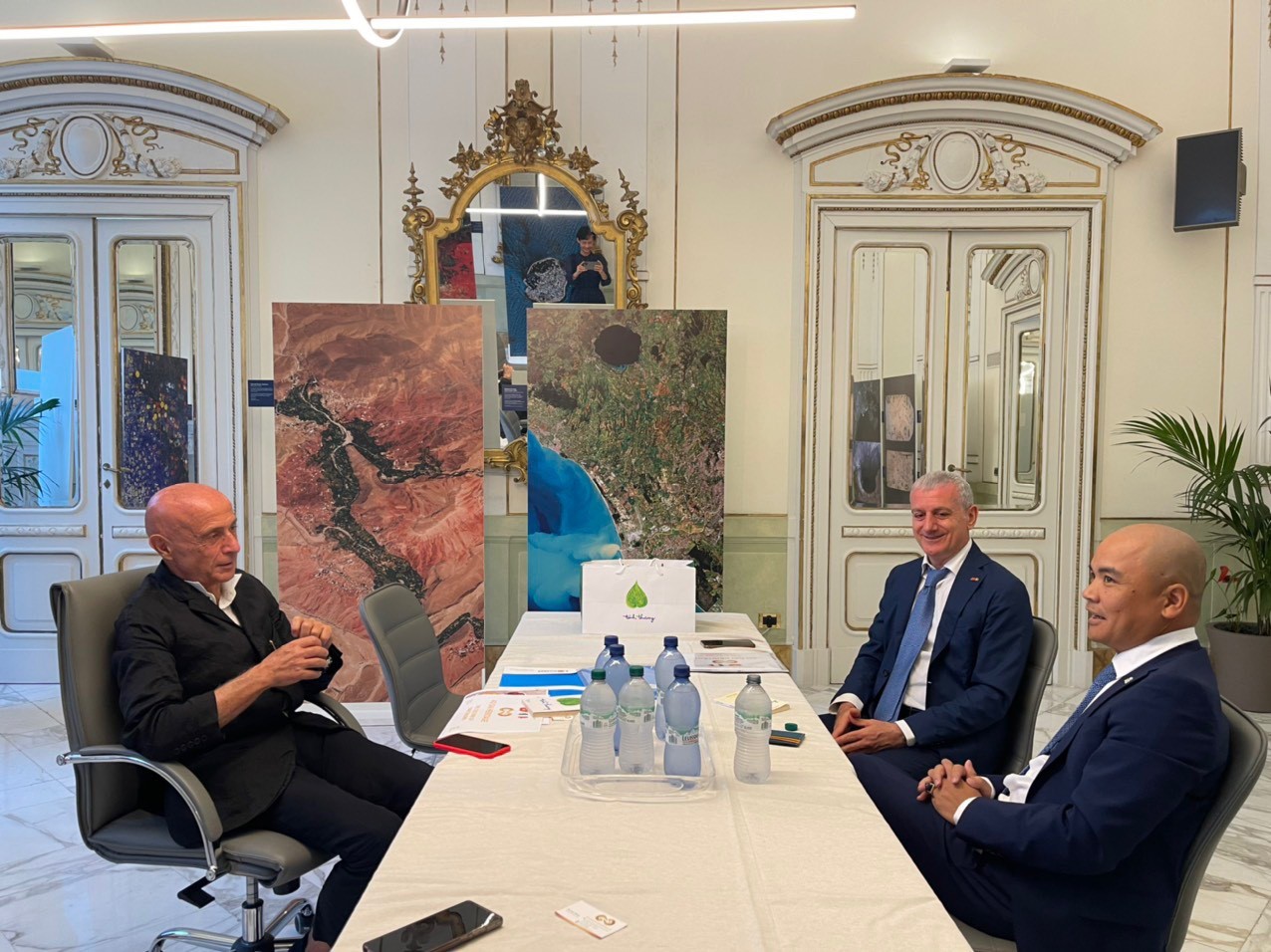 Reporter: What are the chances for Italian investors in Vietnam and opportunities for Vietnamese investors in Italy during this moment, in your opinion, in the context of globalization and the flow of international resources?
Mr Michele D'Ercole: Vietnam is a place with many possibilities. There are several sectors in which we might invest due to its abundant natural resources. The first is agriculture, where native firms can increase the quality of their goods and get access to the European market thanks to Italian technology. Investment in a hotel system is conceivable in all places from the north to the south, where there is more than 3,000 km of the sea route. Vietnam is also noted for its warmth. With the direct flight connecting the two nations, tourism from Italy to Vietnam and vice versa is projected to rise in the future. Furthermore, Italy is one of the most beautiful countries, with several UNESCO World Heritage Sites. Italian investors may also increase their investments in the green economy, which would help Vietnam better manage trash, generate green energy, and enhance infrastructure.
Italy, on the other hand, is a nation of opportunity with a rich past, where you can breathe culture and customs in every part of the country. Italy has the world's ninth largest economy and the eurozone's third largest. Manufacturing is the most significant industry in Italy, accounting for 88% of total output. Investing in Italy allows you to have access to the country's distinctive export know-how in industries such as equipment and automation, fashion, design, and food.
Real estate, industry, agriculture and food, drinks, yachts, hotels, fashion, manufacturing, education, research and development, culture, green transformation, business digitalization, healthcare, and pharmaceuticals are just a few of the various industries in which Vietnamese individuals can invest.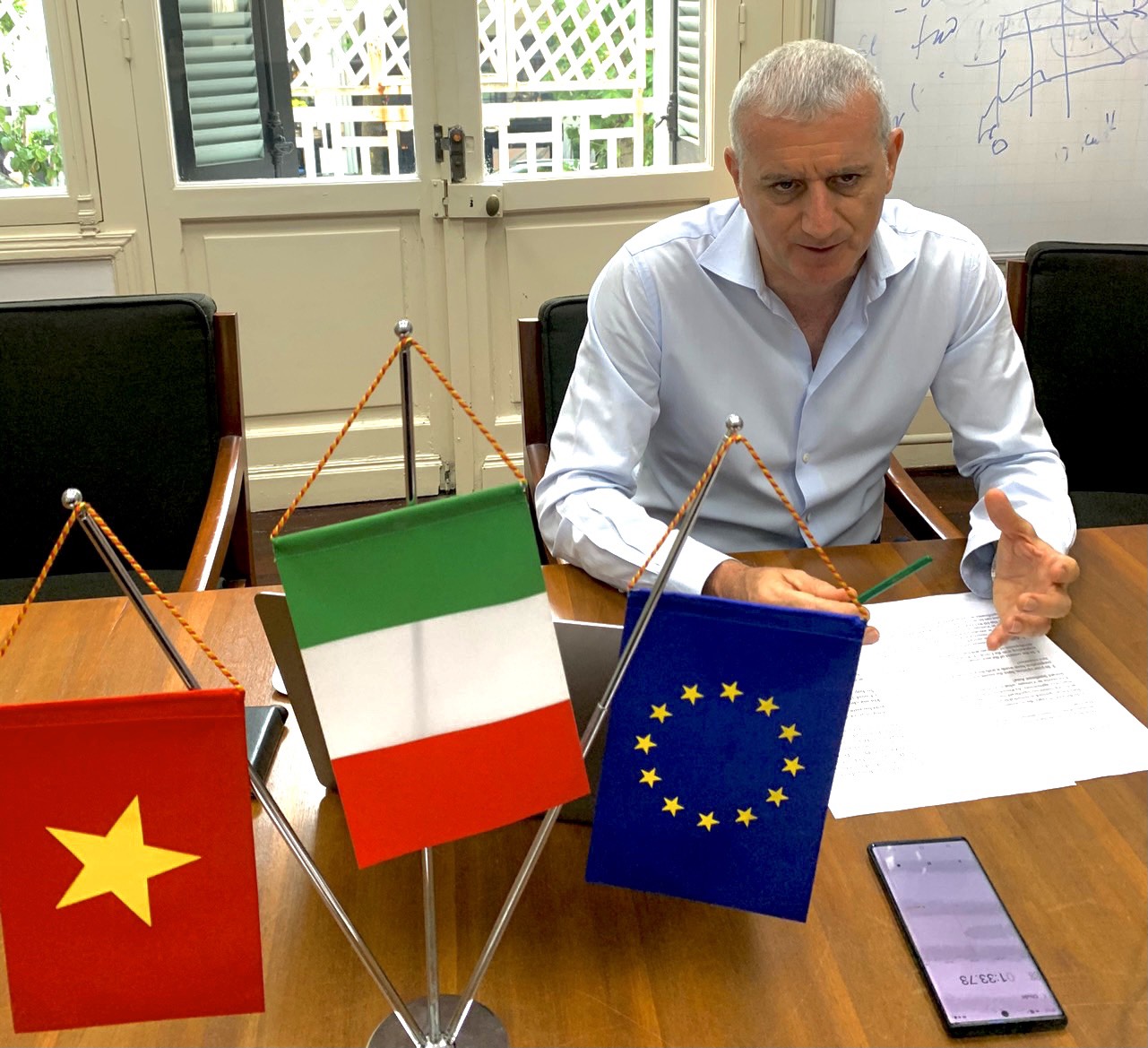 "What I enjoy most about living and working in Vietnam is the weather and the people's smiles." This nation intrigues me so much since I can learn something new about business and life every day. When it comes to the Vietnamese fashion industry, the industry can learn more from overseas experiences, needs to be more international, needs to study more about industry trends in the world from styles, colours, materials, and most importantly needs to be kept up to date," Mr Michele D'Ercole shared.
Reporter: Science, technology, and culture, in addition to investment and commerce, are viewed as assets in Vietnam-Italy collaboration. The Italian Chamber of Commerce in Vietnam and Casa Italia have been aggressive and engaged in introducing and promoting Italian culture, art, nation, and people in Vietnam in recent years. A strong indication that the project "AO DAI HERITAGE - THE CULTURE OF LOVE" is going to take place can be noticed. Could you perhaps elaborate on the significance of this initiative as well as ICHAM's contributions to it?
Mr Michele D'Ercole: Culture is typically the most significant aspect of a country, and this is true for both Italy and Vietnam. Cultural cooperation may be considered to contribute significantly to the development of diplomatic ties between Vietnam and Italy.
Vietnam, in my opinion, has a huge fashion sector, with many fashion designers participating in several fashion shows and events. Vietnamese people like attending fashion shows and following prominent fashion stars. Several beauty competitions in Vietnam draw large crowds, which generates good conditions for the development of the fashion sector.
When discussing Vietnamese fashion, it should be noted that the Ao Dai has several connotations for Vietnamese people. This is a very important costume that Vietnamese people wear on special occasions or festivals. When Italians visit Vietnam, they frequently purchase ao dai to wear in Italy. And I'm wondering how the Ao Dai culture may live on in the subconscious minds of Italians when they talk about Vietnam, rather than just buying and wearing it once. This makes me hope that we can find a way to foster cultural interchange between the two countries.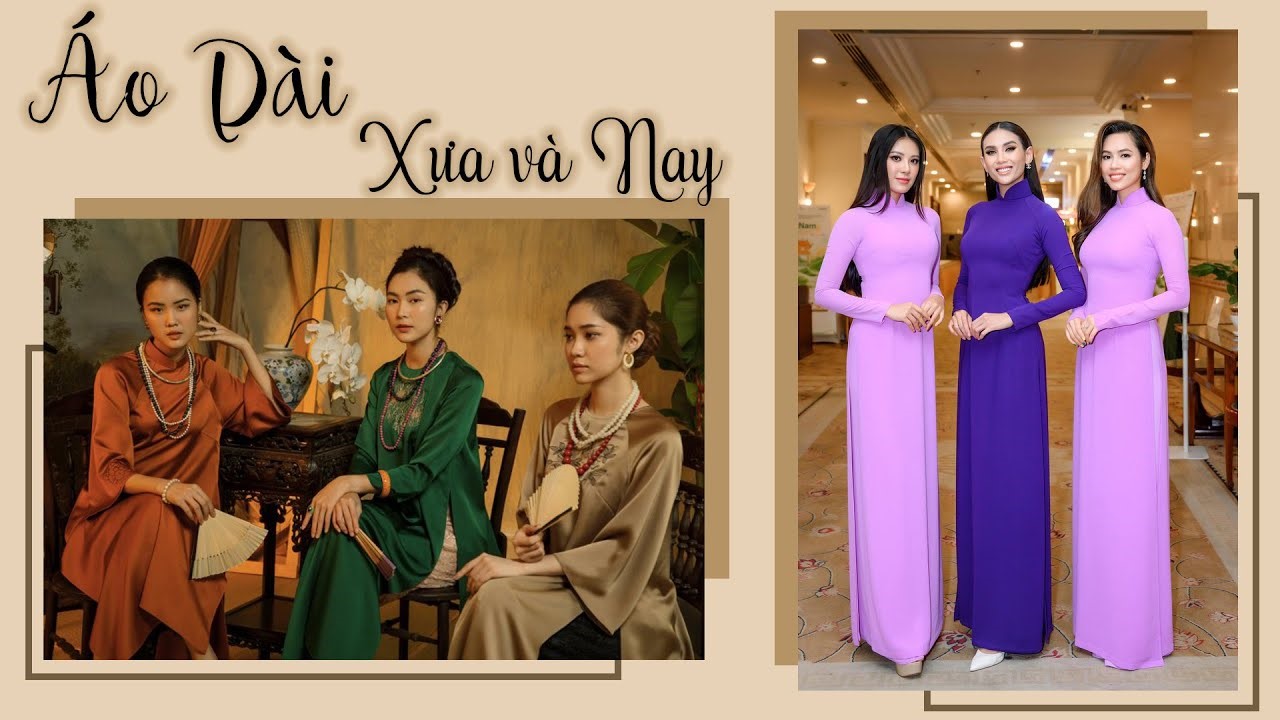 And, to maintain the Ao Dai culture for future generations, I devised the idea of bringing together a fashion designer from Italy and a fashion designer from Vietnam. And they formally met and talked about working together on the project "AO DAI HERITAGE - THE CULTURE OF LOVE" 8 days ago.
I hope that via the initiative "AO DAI HERITAGE - THE CULTURE OF LOVE," I can modernize Ao Dai and make it more popular with everyone. Of course, I still like the Ao Dai's natural beauty and will not alter it significantly. These efforts are not just to help with this project, but also to disseminate the beauty of Ao Dai for many years to come.
"AO DAI HERITAGE - THE CULTURE OF LOVE" is a significant cultural exchange event between Vietnam and Italy based on each country's basic principles and unique characteristics. On the one hand, it is to bring the Vietnamese Ao Dai heritage into international fashion life, and on the other hand, it is to bring the international technological quintessence of Italy into traditional Vietnamese ao dai, thereby forming new values based on price, national rule, and power of the times.
Furthermore, no one has ever provided a creative mix of an Italian designer and a Vietnamese designer in a fashion show before. This project is anticipated to begin in 2023 and be completed within five years. The event intends to develop a collection of 60 Ao Dai pieces made by Vietnamese and Italian fashion designers in partnership. There will also be a fashion show in Italy and one in Vietnam.
This exhibition will not be used to display and sell ao dai collections, but rather to promote the cultures of the two countries. Everyone will understand that traditional dress may still be a business trade item and not only a separate cultural relic of each country as a result of this.
The most essential goal is to promote the two nations' unique cultures, but if it is feasible to promote both economic operations in Italy and Vietnam, it would be a very good thing and will aid the project's success.
Golden Heritage will collaborate with the Italian Embassy in Hanoi, the Vietnamese Embassy in Rome and the Italian Chamber of Commerce in Vietnam (ICHAM) to organize the Ao Dai HERITAGE - THE CULTURE OF LOVE event in order to strengthen cultural cooperation between Vietnam and Italy and to commemorate the 50th anniversary of the establishment of diplomatic relations between the two countries (1973-2023). Through the collaboration of Italian and Vietnamese Fashion Designers, the event seeks to foster cultural exchange between Vietnam and Italy in the fashion design business.
Bao Trinh- Anh Duc
Related news