Exporting agricultural products to Japan Opportunities and Challenges for Vietnamese Businesses
DNHN - In the FTAs, Japan is committed to eliminating tariffs on the vast majority of agricultural and aquatic products imported from Vietnam, thereby creating favourable conditions for the agricultural and aquatic products industry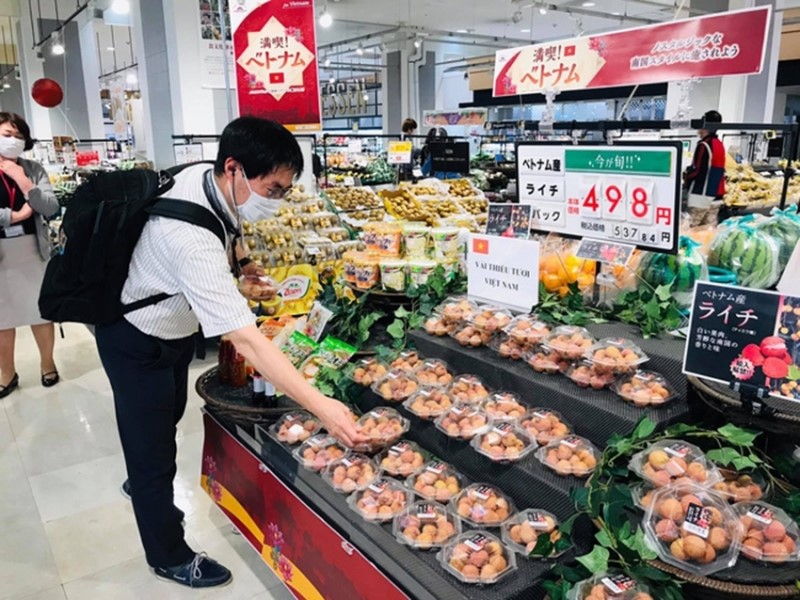 In the context of the economic recession that has caused the yen to depreciate, rising inflation has caused production costs and the price of essential consumer goods in Japan to rise. Imported goods are of the same quality as domestic goods but are sold at a lower price to satisfy consumer demand. In addition, membership in Free Trade Agreements that Japan is a signatory to, such as the Vietnam - Japan Economic Partnership Agreement (VJEPA), ASEAN - Japan (AJCEP), Partnership Agreement Comprehensive and Progressive Trans-Pacific Partnership (CPTPP), and most recently the Regional Comprehensive Economic Partnership (RCEP), has aided Vietnamese businesses in entering the Japanese market. In addition, Japan commits to these FTAs to eliminate tariffs on the vast majority of agricultural and aquatic products imported from Vietnam, creating favourable conditions for the agricultural and aquatic products industry - a key export sector for Vietnam. Vietnam, which has thus far been protected by Japan's strong defences.
Japan is a significant market for agricultural, aquatic, and food products.
This is a great opportunity for Vietnamese businesses to continue penetrating and conquering the Japanese market in the fields of agriculture, seafood, and processed goods, as agricultural products and Vietnamese food are increasingly welcomed by Japanese consumers, according to experts from Japan. Particularly in the group of agricultural products and foodstuffs, Japan is a market with a high import and consumption demand, with this group of imported products including fish and fish products; prawns, eel, meat, soybeans and coffee. Vietnam is regarded as a country with a strong production capacity and a good ability to supply the Japanese market with these products.
According to statistics from the General Department of Customs, the export of goods to Japan reached 24,2 billion US dollars, an increase of 20.3% compared to the same period the previous year. In the first nine months of 2022, exports of agricultural and aquatic products to Japan reached a turnover of 1.68 billion USD, up 28.1% from the same period in 2021. The leading exports were: aquatic products (reaching 1.27 billion USD, up 33%); coffee (reaching 215.5 million USD, up 27.7%); vegetables and fruits (reaching 127.9 million USD, up 6.3%); cashew nuts (reaching 37.2 million USD, down 15.4%); and pepper (reaching 15. Some Vietnamese fruit products, such as dragon fruit, banana, coconut, and litchi, are also well-known in the Japanese market.
Mr Ta Duc Minh, Vietnam Trade Counsellor in Japan, determined that Japan is a market with a high consumption capacity for imported agricultural, aquatic, and food products. Many Japanese supermarkets also intend to import agricultural and aquatic products of high quality and reasonable cost from Vietnam, such as pangasius, chicken, prawns, mango, banana and dragon fruit. Other frozen products, typically AEON Group - one of the largest Japanese retail trading groups with 179 domestic and international joint ventures - is in high demand to import bananas with a large number of customers. The unlimited quantity provided that Vietnamese partners can meet and guarantee quality.
Vietnamese businesses have failed to seize opportunities.
Despite possessing several significant advantages, the majority of Vietnamese businesses have not yet exploited these advantages for a variety of reasons.
Participation in the above-mentioned FTAs also presents many obstacles for Vietnamese businesses, such as the need to manage the origin of goods to ensure compliance with the FTAs' stringent requirements. Product labels must list the primary ingredients, and allergenic ingredients, and adhere to the provisions of product display laws, premium labelling laws, packaging recycling laws, and laws that promote the utilisation of natural resources. Particularly, they must ensure that there are sufficient documents to prove that they meet the Japanese requirements for food safety and animal and plant quarantine... The Japanese have high regard for health protection and place high demands on the properties of food, especially its freshness and flavour. The Japanese government has issued numerous regulations to ensure antibiotic residues on agricultural, aquatic, and food products, with a focus on traceability, due to its sensitivity to products that do not meet food hygiene and safety standards. product origin. Japan returned 90 export cases of agricultural and aquatic products from Vietnam in 2022, nearly double the number returned in 2018 (54 cases). The majority of goods are returned due to quality violations, including residues of banned substances and failure to ensure food safety.
Vietnamese businesses lack information regarding the requirements of the Japanese market. One example of the predominant demand is the import of bananas; Japanese consumers prefer Vietnamese bananas to Philippine bananas due to the Vietnamese bananas' superior flavour. According to data from the Vietnam Trade Office in Japan, however, Vietnam's banana exports to Japan will only surpass 7 million USD in 2022, representing less than 1% of Japan's banana import market share. Japan spends up to 981 million USD annually to import fresh and dried bananas, whereas Vietnam's market share is only 0.6%, equivalent to an export turnover of 6.6 million USD.
Due to commercial practices, the majority of Japanese importers only import and distribute products bearing Japanese brand names. This prevents Vietnamese exporters from promoting their brands and adding value to goods. According to the Vietnam Trade Office, Vietnam exports a large quantity of agricultural products and processed foods to Japan, but only to the Vietnamese community in Japan. These exports have not been extended to other countries. To reach Japanese locals, a large distribution channel such as a supermarket system is required. If the export business only targets Vietnamese customers in Japan, it will reach saturation quickly and it will be challenging to increase export value.
Japan continues to rank among the top three largest foreign direct investors (FDI) in Vietnam and is the country's fourth-largest trading partner. VCCI Chairman Pham Tan Cong emphasised, with a 30- to 50-year outlook, at the "Vietnam - Japan Economic Forum 2023: Together Creating Innovation to Build a Sustainable Economy" that a 30- to 50-year future vision is necessary. Future economic cooperation between Vietnam and Japan has significant expansion potential. If Vietnamese businesses can take advantage of the FTAs to which both Vietnam and Japan are concurrent members and overcome the aforementioned obstacles, Vietnamese brands will gain a stronger foothold on the international stage and expand shortly.
Phuong Linh
Related news