Vietnam has seven advantages that "attract" international investment
DNHN - On the morning of September 17, the Minister of Planning and Investment revealed seven elements that make Vietnam "attract" foreign investors at the Prime Minister's Conference with foreign-invested firms.
According to Minister of Planning and Investment Nguyen Chi Dung, Vietnam is rated as an attractive and safe investment location by international agencies, with seven benefits, including:
First, a stable sociopolitical economy is particularly valued by the international community when it achieves the dual aims of disease prevention and control, as well as economic recovery and development.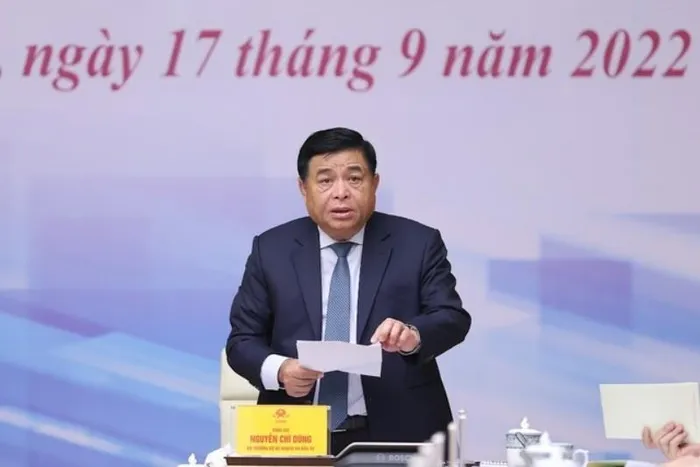 "During the most severe era of the Covid-19 outbreak in 2020-2021, Vietnam remains one of the few economies with positive development, the macro-economy is stable, and inflation is kept at a low level." "The socio-economic growth has continued to accomplish many excellent achievements, particularly in the first eight months of 2022; many significant businesses and production groups have returned to operation with 100% capacity and extended investment," Mr Nguyen Chi Dung stated.
Second, the economy is very open, with considerable international economic integration, and its international standing is improving. As a result, Vietnam has entered and signed 15 new-generation free trade accords, which include all of the world's largest and most industrialized nations.
Third, there are plentiful human resources, a young labour structure, and competitive costs. Furthermore, with approximately 100 million people, the domestic market is rich in potential and fast rising in purchasing power. As a result, the middle class accounts for 15% of the population and is expected to reach 50% by 2030, according to the World Bank.
Fourth, Vietnam has implemented and continues to implement numerous measures to improve institutions and legislation by international standards and commitments in new-generation free trade agreements in which Vietnam participates, while also creating a favourable business investment environment and improving the country's competitiveness, thereby creating favourable conditions for foreign enterprises to invest and do business in Vietnam.
Fifth, infrastructure is heavily invested in and improved. The government is now executing the medium-term public investment plan for the period 2021-2025, as well as the investment plan to assist socio-economic recovery and development, both of which will focus on creating several projects. Important infrastructure such as motorways, coastal axes, airports, seaports, and so on; expedite implementation progress to provide a breakthrough driving force for the country's socioeconomic growth in the next years.
Sixth, Vietnam is strategically located in the region's core, with only a 3-5 hour flight connecting it to dynamic economies such as Japan, Korea, Singapore, and others.
Seventh, the Government's attention, friendship, and tenacity, as well as the engagement of the whole political system, to eliminate hurdles and problems for companies and make the investment climate more open and easy.
According to a brief survey done in September 2022 by the Ministry of Planning and Investment in partnership with the Vietnam Commercial Forum Alliance (VBF), displays good information regarding international investors' production and business operations in Vietnam. Over 90% of businesses attained medium to high company efficiency and financial position. Most firms expressed optimism and confidence in Vietnam and vowed to continue to develop investment and long-term operations, with around 66% planning to increase their investment in 2023.
76% of businesses regarded the efficacy of the government's production and business support policies (such as tax exemption and reduction, fees, price stabilization, labour permits, import and export policies, immunization assistance programs, etc.) as medium to high. The most effective strategies include VAT exemption and reduction; a program to stabilize gasoline and oil costs; improved work permit and customs clearance processes; import and export regulations; and worker assistance...
"This is the clearest proof of the business community's support and faith in the Government's and the Prime Minister's actions and solutions in recent years," Minister Nguyen Chi Dung stated.
Many foreign investors have shown interest in Vietnam, but to implement the policy of selectively attracting and cooperating with foreign investors, with quality, efficiency, technology, and environmental protection as the main evaluation criteria, a representative of the Ministry of Planning and Investment stated that Vietnam should focus on attracting projects in the fields of high technology, innovation, research and development; pervasive projects.
To attain that key aim, the government and its ministries, agencies, municipalities, and business groups must concentrate on both short-term and long-term solutions. In particular, in addition to the efforts of the government, state and local management agencies and business associations must be more proactive in researching and assessing challenges, opportunities, and business trends, market trends, particularly requirements on sustainable business, to share, guide, support, provide information and advise member businesses as soon as possible.
Additionally, promoting the association of member enterprises; strengthening the interests of its members in domestic and international relations; acting as a bridge, advocating for policies, maintaining dialogue with the Government, and relations with domestic and foreign agencies and organizations on laws and policies governing the business community's activities.
To increase the efficiency of foreign investment, the Business Association must continue to promote its function as a "bridge" between the government and member firms to reflect impediments and difficulties in the operation investment process as soon as possible. Simultaneously, confer with and consider adding and revising policies and legislation to reflect the current scenario.
PV
Related news