Thung Nham ecotourism area has been developed for the past two decades, contributing to the consolidation of Ninh Binh
DNHN - Ninh Binh, located approximately 90 kilometres south of Hanoi, has become a popular tourist destination due to its majestic and pristine natural beauty.
As a well-known tourist destination in the core area of the Trang An world heritage complex in Ninh Binh province, the Thung Nham ecotourism area is renowned for its majestic natural beauty and rare animals. Thung Nham has attracted many domestic and international tourists in recent years.
Approximately 12 kilometres south of Ninh Binh's city centre, the Thung Nham Ecological Area consists of grasslands, limestone, and caves. The most notable characteristics of Thung Nham are the caves and the unique bird communities.
In the Thung Nham tourist area, visitors can explore a number of stunning caves, including But cave, Ba Co cave, and Tien Ca cave. These caves have distinctive architecture, with numerous beautiful stalactites and lighting systems that create a glimmering and mysterious environment.
Additionally, Thung Nham is a bird garden that is home to numerous endemic and migratory species. Visitors can engage in bird-watching activities such as river boating, constructing bird houses, and appreciating the stunning natural landscape. Especially in the spring, when migratory birds return from the tropics, Thung Nham becomes a popular destination for bird watchers who want to experience these extraordinary sights.
In addition, there is a system of beautiful garden houses, lotus ponds, and chrysanthemum gardens that creates a tranquil and relaxing environment. Flower Valley is also located in the ecological area of Thung Nham; it features images of thousands of colourful flowers and a variety of flowers that create a beautiful and romantic flower valley. This is where the colours shine, with thousands of seasonal flowers including sunflowers, daisies, lilies, lavender, and countless others. The distinctive landscape of the flower valley creates a beautiful and alluring natural scene with fresh air and floral fragrance.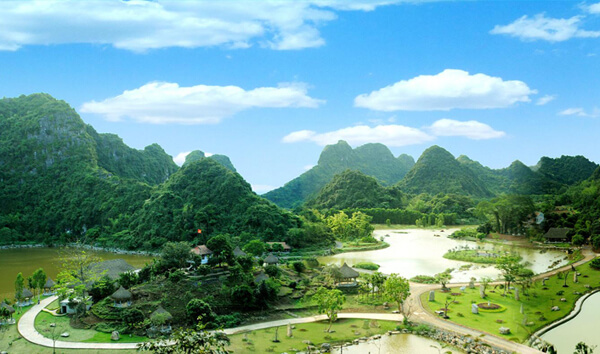 Thung Nham ecotourism area will celebrate its 20th birthday in 2023, marking a development journey and reaffirming its position within the Ninh Binh tourism industry.
Thung Nham has become a popular tourist destination over the past two decades due to its exceptional natural beauty and abundant biodiversity. Thung Nham eco-zone has received attention and investment for the conservation and development of unique natural resources from all levels, departments, and generations of Ninh Binh province leaders since its establishment. The area has become an ideal habitat for many rare birds and animals due to strict protection. The creation of natural habitats for birds and animals has piqued the interest of nature enthusiasts and those who wish to learn more about these creatures. Thung Nham has also developed a variety of tourism activities that offer visitors a memorable experience. Visitors can enjoy activities such as river boating, exploring unique caves, bird watching, scenic walks, and visiting flower and garden gardens.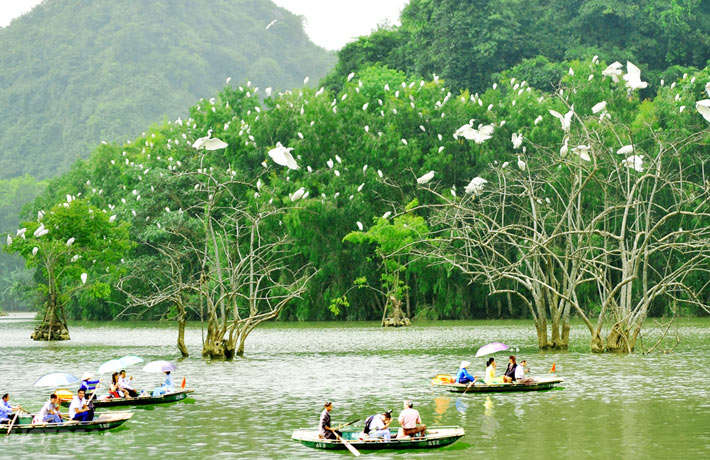 Doanh Sinh Tourist and Commercial Services Joint Stock Company's leaders and employees have worked tirelessly over the past two decades to make Thung Nham a well-known and sustainable tourist destination. swampy valleys, wild reeds overgrown. It is now a thriving ecotourism destination that visitors to Ninh Binh should not overlook.
The combination of nature preservation, tourism development, and economic opportunity for local communities has produced a successful model for the management of sustainable tourism. Thung Nham continues to attract tourists from all over the world, contribute to the tourism development of the province, and promote the image of the land and the Ninh Binh people to domestic and international tourists thanks to the potentials and achievements it has attained over the past two decades.
Nguyen Tuan
Related news