Da Nang People's Committee held a seminar "Da Nang - Future Financial Center" in Geneva
DNHN - On May 24 in Geneva, Switzerland, the People's Committee of Da Nang City, the Vietnam-Switzerland Business Bridge (SVBG), and the Geneva Chamber of Commerce, Industry, and Services held a seminar to unite Vietnamese citizens. "Da Nang - Future Financ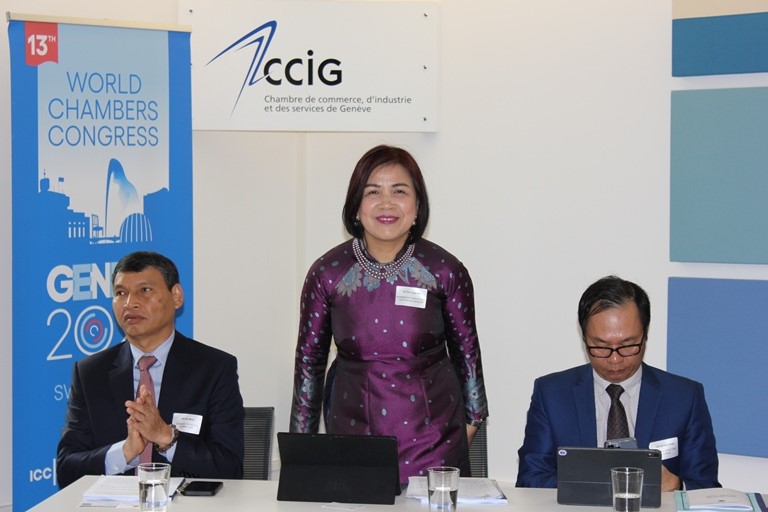 Mr Ho Ky Minh, Vice Chairman of the People's Committee of Da Nang City, Ambassador Le Thi Tuyet Mai, Head of Vietnam's Permanent Mission to the United Nations, World Trade Organisation (World Trade Organisation), and other international organisations in Geneva, MMrVincent Subilia - Director of the Chamber of Commerce, Industry, and Services, and representatives from businesses operating in the fields of banking, asset management, and technology attended the event.
In 2022, among the 63 provinces and cities of Vietnam, Da Nang ranked third in growth rate, tenth in per capita income, and seventeenth in economic size.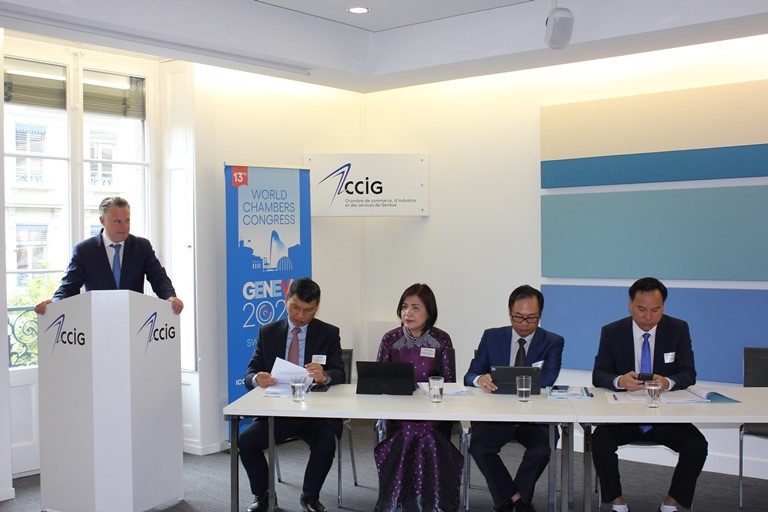 As a coastal city with an important geographical position, Da Nang has been identified as the economic, political, and cultural centre of Vietnam's central region, a strategic port city, and one of the world's entry points. The East-West Economic Corridor (EWEC) connects the Central Highlands and Laos, Cambodia, Thailand, and Myanmar to the sea at Tien Sa Port.
Vice Chairman of the Da Nang City People's Committee Ho Ky Minh stated that Da Nang's long-term goal is to become a large, ecological, and smart city that serves as a hub for startups and innovation. Innovative and inhabitable coastal metropolis. Da Nang is participating more actively in international forums of the region and the world, especially after hosting APEC in 2017. As a result, the city's prestige, position, and image are rising. raised.
Da Nang City has researched and proposed specific mechanisms and policies to the Vietnamese Government to establish an international financial centre in Da Nang. Da Nang City proposes that the Government report to the National Assembly of Vietnam to issue a Resolution on the development of the International Financial Centre in Vietnam, for the specific and preferential policy proposals to be implemented. Because of this, Da Nang has been selected as one of the cities aspiring to become an international financial centre. Concurrently, it is proposed that the Government consider establishing the Vietnam International Financial Centre Development Council to ensure the management of the nation and each locality.
In addition to its goal of establishing an international financial centre, Da Nang is also keen on developing high-tech industries. Da Nang Hi-tech Park is one of three national high-tech parks and the only one in the central region of Da Nang. After the pandemic, attracting investment to Da Nang Hi-Tech Park has been identified as the driving force and nucleus for innovation, thereby contributing significantly to the growth of Danang's economy. The city aims for the Da Nang Hi-Tech Park's contribution to the city's GRDP to reach at least 10-15% between 2025 and 2030. Through this seminar, effective connections between Da Nang and Da Nang will be established. Danang, along with the business community, Swiss investors, and other partners, has plans to expand investment and business in the high-technology sector.
Mr Minh stated that the purpose of organising the Seminar "Da Nang - Future Financial Centre" is for the city of Da Nang to educate organisations, businesses, and investors on its policies to attract investment. At the same time, we anticipate receiving opinions to exchange and discuss implementation methods for Da Nang to construct an international financial centre and promote the growth of high-tech industries in particular, as well as the city's economy and society in general, shortly.
Ambassador Le Thi Tuyet Mai, Head of the Permanent Delegation of Vietnam to the United Nations, the World Trade Organisation (WTO), and other international organisations in Geneva emphasised the advantages of Da Nang, including its status as an economic, political, and cultural centre, a strategic port city, and a growth hub for the Central region. It is believed that Da Nang is the top destination for business and investment travellers.
At the seminar, the representative of Da Nang's delegation responded to questions regarding the city's development policies, programmes, and projects, which are primarily geared towards achieving its goal of becoming a financial centre shortly.
The seminar in Geneva demonstrated Da Nang's dedication and resolve to realise its vision of becoming a future financial centre, attracting investment, and fostering international cooperation.
PV
Related news